BY JOYCE MCKENZIE
Special Correspondent
Published: January 13, 2016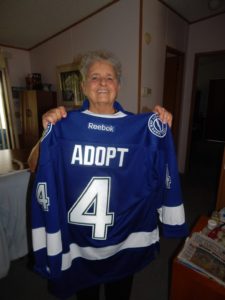 THONOTOSASSA — Claire LeBoeuf is a voice for the voiceless and a lifelong champion for children.
Those are the sentiments of Paul Halpern, director of New Life Village in Tampa, founded in 2012 by LeBoeuf, a Catholic nun commonly referred to as Sister Claire.
The not-for-profit, 11.8-acre townhouse complex in the Palm River community is for families of adoptive children and seniors who serve as surrogate grandparents, tutors, and a shoulder to lean on for adoptees and parents alike.
The 73-year-old Thonotosassa resident has devoted the past four decades of her life to reducing the number of foster children who languish in the system waiting to be adopted. She maintains the older they get the more difficult it becomes to place them with loving families they can call their own.
Prior to founding New Life Village, LeBoeuf created New Life Dwelling Place, a place where mothers of children in state custody could live together under one roof and be given advice on how to form bonding relationships. The primary purpose was to ascertain if the mothers had the skills and the willingness to be good parents and if not, they could relinquish their parental rights without guilt and allow their children to be adopted.
She also founded and oversaw Everyday Blessings, a group home in Thonotosassa for foster children centered on keeping siblings together and focused on placing them with adoptive families.
And although LeBoeuf is now retired and no longer involved in the operation of Everyday Blessings, she continues to make her home on the property.
"She's a hero whose legacy will live on in the lives of kids for a long time," Halpern said.
Based on those beliefs, he nominated LeBoeuf as a Tampa Bay Lightning Community Hero, an award she was honored with during the team's Dec. 28 hockey game against the Montreal Canadians at Amalie Arena.
Lightning owner Jeff Vinik presented her with a $50,000 check, marking a milestone of $10 million, an amount he and his wife, Penny, pledged over a five-year period to the hero program, managed by the Lightning Foundation.
LeBoeuf was the 197th recipient of the generous monetary donation, a sum granted to each of the award's beneficiaries during every home Lightning game. The contributions are to be spent on the charities of their choice.
One fifth of LeBoeuf's new-found money will be used to enhance and refurbish New Life Village's clubhouse to include a learning center with computer stations and other learning tools to improve the children's scholastic standings.
She also plans to establish a $20,000 adoption fund to help alleviate some of the incidental costs incurred by parents during the process, even though there is no fee to adopt children in the foster system.
An equal amount will be spent on hiring a part-time marketing director to spread the word about New Life Village's program and to search out prospective parents for hard-to-adopt children ages 8 and older.
"My feelings are hard to put into words," said LeBoeuf, still clearly on "cloud nine"a day and a half after receiving the prestigious award. "It astounds me first of all, but I guess it's an affirmation that whatever I can do on any given day is good in that it's being true to my dream of helping foster children needing homes."
Sister Jackie Kingsbury of the Sisters of the Divine Providence, who was development director for New Life Dwelling Place and is now also retired and living with LeBoeuf, is delighted her good friend and roommate was recognized for the many years she's devoted to giving foster kids brighter futures.
"I was glad, too, for the publicity that has come out of this," she said. "God willing, this will be a way of getting the word out about these children's needs."
Like foster children, LeBoeuf knows firsthand the feeling of not belonging.
At the age of 13, her mother, whom she described as the family's caregiver and a person she dearly loved, suddenly died. As a result, she was sent to live with her godmother. While well cared for, she never quite felt she fit in.
When her father remarried a year later, LeBoeuf moved into their new house. However, her nagging sense of not belonging grew even stronger.
Therefore, shortly after graduating from high school, she entered the Congregation of the Sisters of the Holy Cross, a family of closely knit nuns with a mission of doing God's holy work here on earth.
Through this Catholic sisterhood, she learned the value of strong, nurturing families and has made it her calling to help displaced children achieve the same. "They say I'm a woman of vision but nothing like Mr. Vinik," LeBoeuf said. "He is a man of vision who benefits the entire community."