Vision 
To dramatically reduce the number of children who have been in foster care for over 1 year.
Mission
The mission of New Life Village is to provide a supportive environment, within an intergenerational community, for children in need of a safe and stable family experience.
The Village exists to reduce the number of children in long term foster care by encouraging more families to adopt or to prevent them from entering into foster care at all. New Life Village supports the foster care system by providing program rich, below market housing to foster-adoptive and kinship families of children, many who have survived abuse, neglect and trauma. Seniors living in the community serve as surrogate grandparents, volunteers, and tutors. Our community provides children a loving, supportive place to call home while they heal from the effects of their trauma(s). The village also connects parents to a community of supports and resources so that children have families that are supported and supportive. New Life Village is the only community of its kind in Florida! We focus on three areas that impact the local foster care system: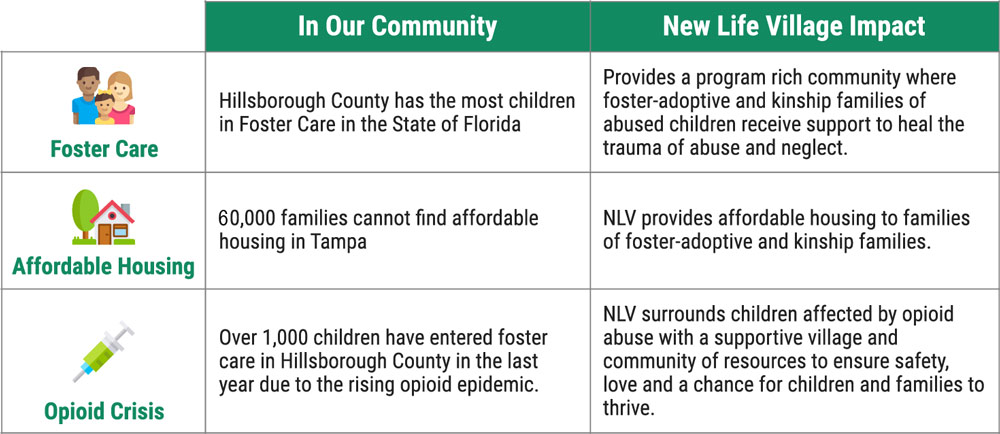 Village Statement of Faith 
The Great Commandment is the source and strength of New Life Village.  Love God above all things; Love others as God has loved you! Following that commandment, New Life Village is mandated by the specific teaching of Jesus Let the Little Children Come to me–woe to the one who hurts one of them. As witnesses of God's Presence among us, the program operates day-to-day, aware of and obedient to the movements of the Holy Spirit in all its interactions and decision making. We respect and embrace all people in an interfaith community that practices showing the love of Christ through service and love. As part of God's mission for us, we believe as a Village that it is our priority to help all of our residents' wellness, resilience and healing.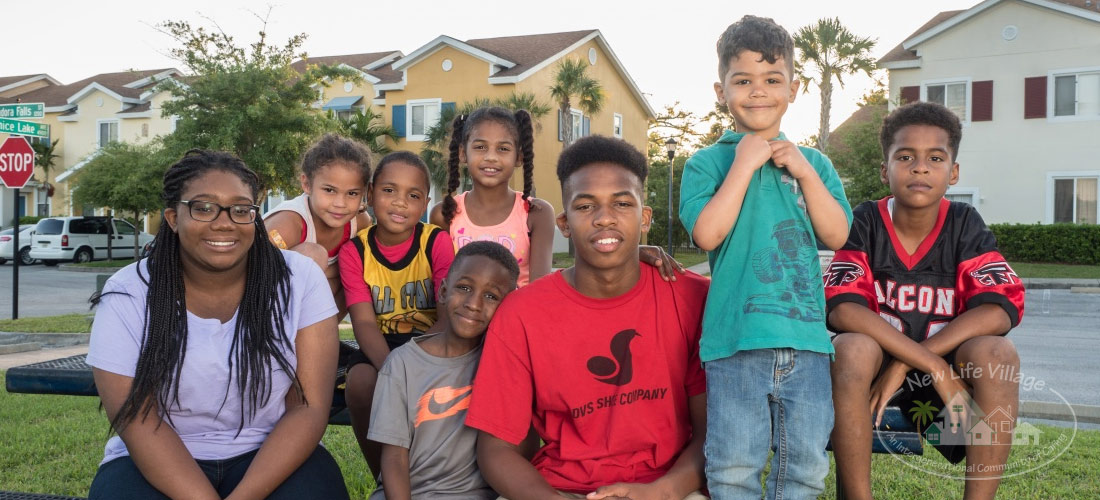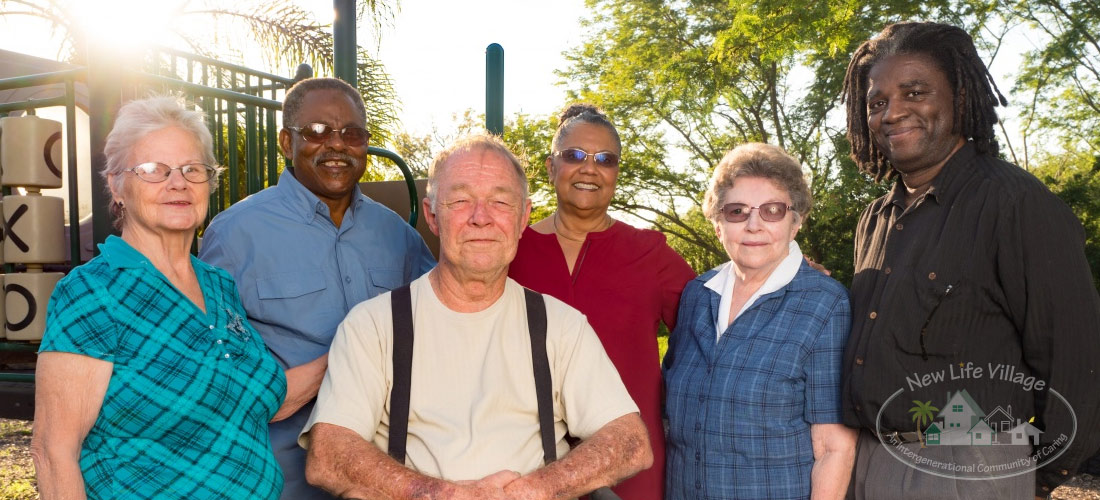 Why Do We Exist?
Both nationally and locally, the foster care system is filled with children who need a forever home.  These kids have been through more than most of us can imagine and end up in foster care through no fault of their own.

Nationally…
There are a little over 400,000 children in foster care in the United States.
A little over half of these children remain in care for at least one year.
Nearly 50,000 of these children will remain in foster care for five years or more.
Approximately 30,000 children remain in foster care into adulthood.
Annual and state expenditures for foster care total more than $9 billion a year.
It costs the average taxpayer in Florida $40,000 a year for every child who does not have a permanent home.
In Hillsborough County, Florida…
Hillsborough County is amidst both a Foster Care and an Affordable Housing crisis. There simply are not enough affordable housing options for seniors and low income families and there are also not enough foster homes for the volume of children entering into the system of care.
Florida is 3rd in the country with the amount of children affected by foster care and Hillsborough County is 1st in the state.
As of 3/31/2019, in Hillsborough County, there are more children in foster care, 2,510, than in any other county in Florida.
During fiscal year 2017-2018, 15,884 children entered out of home care in Florida.
As of June 30, 2018, 13,379 children were in kinship care, while 7,014 children were in licensed foster care, statewide.
As of 3/31/2019, in Hillsborough County, there were 3,350 children under case supervision.
In the tri-county area (Hillsborough, Pasco, Pinellas), there were 6,391 children under case supervision.
In 2012, there were 2,800 in the system of care in Hillsborough County. The dramatic increase is correlated with rising opioid crisis.
Many older children end up living in group homes where they remain until they "age out" of the foster care system, often later becoming part of the homeless population or having children of their own who also end up in foster care.
Children who languish in foster care have a far greater chance of dropping out of high school, becoming a teen parent, abusing substances, and being homeless.