Opening in 2014, New Life Village is home to approximately 100 people, ranging in age from 2 – 90. Our Village works at the intersection of health, housing, child welfare, and aging – areas that have traditionally been treated separately in the social sector.  With the community itself serving as the intervention, New Life Village brings children, families, and elders together within an intentional, vibrant community where intergenerational connection is the key to well-being. Our model combats the local foster care, affordable housing and opioid crises.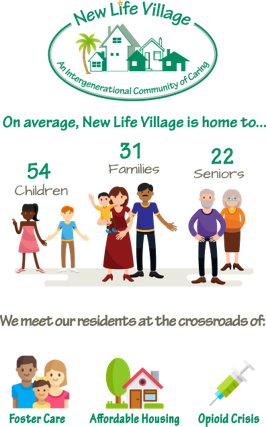 Designed for children formerly in foster care and/or affected by trauma(s), their foster-adoptive-kinship families now providing them permanency, and elders seeking meaning and purpose, our community-driven intergenerational housing and integrated onsite services improve health and wellbeing, housing stability, and educational attainment for residents at all stages of life.  Our goal is to interrupt the cycle of instability and isolation and provide a safe, program-rich environment for our residents to flourish together and to increase the odds that youth affected by trauma(s) have positive outcomes through emotionally healthy relationships.
Seniors living at our Village enjoy their intentional retirement by serving as surrogate grandparents and extended family, tutors, elders, friends and support to other Village parents.  They participate in family outings, chores, community activities, as well as assist other seniors. We value our seniors as neighbors who share their lifetime of wisdom. Our Village children find not just parents and a home, but also grandparents, playmates and an entire neighborhood designed to help them grow up in a nurturing environment, heal, and succeed in life. NLV offers an onsite Wellness, Resilience and Character Development Program for all ages, designed to create strength and self-reliance with family and community services which address each generation's and family's unique needs.
Residents gather daily in the Clubhouse, Village Park, by the pool and in the Village gardens. They spend time painting, cooking, volunteering, singing, drumming, practicing yoga and Tai Chi and riding bikes allowing them to heal and flourish in a community where:
Seniors stay active and engaged
Seniors lower their risk of health issues
Seniors find daily meaning and purpose
Residents are valued, engaged and supported
Each resident has a compassion and commitment to the mission
Youth are surrounded by neighbors, family and staff committed to their safety and development
Youth enjoy stability, permanence and "Home"
Parents gain knowledge and skills to parent youth who have experienced trauma
Parents enjoy support and camaraderie to manage stress and achieve a level of security to provide stability for their children
Youth do better in school and managing emotional challenges
Youth report fewer problems with mental health issues and experience fewer behavioral issues at school