Read Original Article
By Times staff
Published: October 12, 2016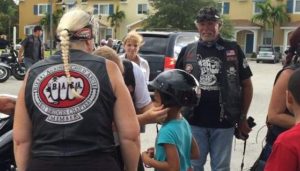 Bikers Against Child Abuse, shown here interacting with children and giving them rides at an event earlier this year, will be among the organizations at Saturday's All 4 Kids event at Harley-Davidson of Tampa. [Courtesy of Guardian Ad-Litem of Hillsborough County]
People looking to make a difference in the life of an abused or neglected child can attend the All 4 Kids event from 11 a.m. to 3 p.m. on Saturday (Oct. 15) at Harley Davidson of Tampa, 6920 N Dale Mabry Hwy.
More than 25 agencies who work with these children can provide opportunities for the Hillsborough County community to become involved. With all of the recent dependency system problems in the news, this is a solution-oriented event. A pavilion will be set up to match hopeful volunteers with different organizations.
"There are more than 3,500 children currently under court supervision in Hillsborough County alone" said Guardian ad Litem Program Circuit Director Tabitha Lambert, "and they all need someone to advocate for their best interests."
Currently the Guardian ad Litem Program of Hillsborough County is only able to work with about 1,800 of these children because of the lack of volunteers.
Other local players in the dependency system such as Children's Board of Hillsborough County, Eckerd Alternatives, New Life Village, Youth & Family Alternatives, Gulf Coast, Devereaux, Foster Licensing Agencies, Chambers of Commerce, Hillsborough County Sheriff, Tampa Police Department and various local family focused businesses will attend.
The local chapter of Bikers Against Child Abuse will kick off the event promptly at 11 a.m. with the Rough Riders Honor Guard presenting the flags at 11:15 a.m. The information event will include live music, free food and treats for the kids.
The All 4 Kids event will bring all of the community-based care partners to one location to allow the community to learn how they can help to make a difference for these children—starting with one child at a time. With information from adopting and fostering to volunteering and providing toys for Christmas, there is an opportunity for everyone.