Hillsborough County and partners build one-of-a-kind community in Florida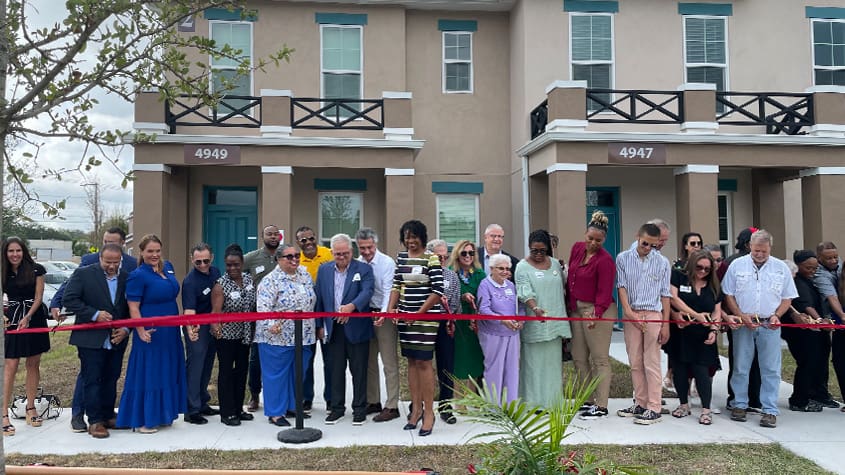 At least 50 children who had been in the foster care system now have a new place to live thanks to a housing project funded in part by Hillsborough County.
New Life Village is a residential community for families seeking permanency for children impacted by foster care or trauma. Opened in 2012, it is the only community of its kind in Florida and has just completed construction of an additional 16 townhomes. Each unit will house a minimum of three children, plus a caregiver, be it an adoptive parent, grandparent, foster-to-permanency parent, or permanent guardian. The townhomes will be rented to the families at hundreds of dollars below market rates.
The intergenerational community is designed to support families raising children who had been in the foster care system or were at risk of entering the foster care system. It provides program-rich, below-market housing and onsite services. Children formerly in foster care and/or affected by trauma can find permanency at New Life Village with their foster-adoptive-kinship families. Senior citizens also reside in New Life Village as surrogate grandparents, tutors, and mentors.
Sasha McGlothin lives in New Life Village with her three foster kids and her biological child. She was incredibly relieved to move into a bigger home at a more affordable price. "I signed up for New Life Village and I got accepted, which was awesome. And from that day on, it literally changed my world," said McGLothin. She appreciates having more room for her family to live in, as well as the events and services the community provides.
At a recent ribbon cutting ceremony for New Life Village, Larry Cooper described how difficult it has become for people to obtain homes within their financial means. Cooper is chief of Prevention and Intervention Services at Children's Home Network. He explained that for many people, finding a place that is large enough for families to remain intact and under the same roof adds to ongoing housing challenges.
Cooper said, "We've been serving kinship families for over 20 years in the Tampa Bay area. And certainly, affordable housing is one of those key issues you're having to figure out when you're on a fixed income, you've retired, you're downsizing, and now having to figure out what and how you're going to manage with one, two, three, or more kids, and being able to keep them together."
Hillsborough County contributed about $1.8 million toward the project, part of its effort to address affordable housing issues. Additional programs and services funded by the County focus on creating new affordable housing opportunities, training for residents to further their careers and afford home ownership, and infrastructure improvements that enhance the communities around them.