That's happening at New Life Village. More than 100 residents -children, low-income seniors, and family members – live on the 11-acre campus
Hillsborough County's partnership with New Life Village is making a big difference in the lives of foster children and low-income seniors at the multigenerational campus in the Palm River area.
In recent months the County has contributed Community Development Block Grant funds for a garden and splash pad, as well as sponsored the Trauma Aware Wellness, Resilience, and Character Development Program at the complex. It also provided $2 million in federal Home Investment Partnership funds to help build 16 new townhouses that will add to the existing 32 residences.
New Life Village currently accommodates about 60 children, 30 seniors, and 31 families. This housing model helps address two pressing needs in Hillsborough County: A lack of adequate foster homes for children, and too few affordable housing options for seniors and low-income families. New Life Village gets children out of foster care, and provides affordable rental housing for the children, their caregivers, and seniors.
The campus opened in 2012 after a condominium community that was just beginning to take shape fell into foreclosure. The founder of New Life Village, Sister Claire LeBoeuf, convinced the nonprofit's board to buy the 11-acre development. It established a safe, stable, and loving community that encourages foster-to-adopt parents to give children a permanent home, while providing housing for low-income seniors capable of serving as mentors, tutors, and de facto grandparents to younger residents.
After almost a decade, the campus is thriving. By nearly every measure the children are gaining confidence and a sense of security and family, while showing academic progress. Senior residents say their lives have purpose and meaning.
The campus is unique in Florida, and there's a waiting list to move in.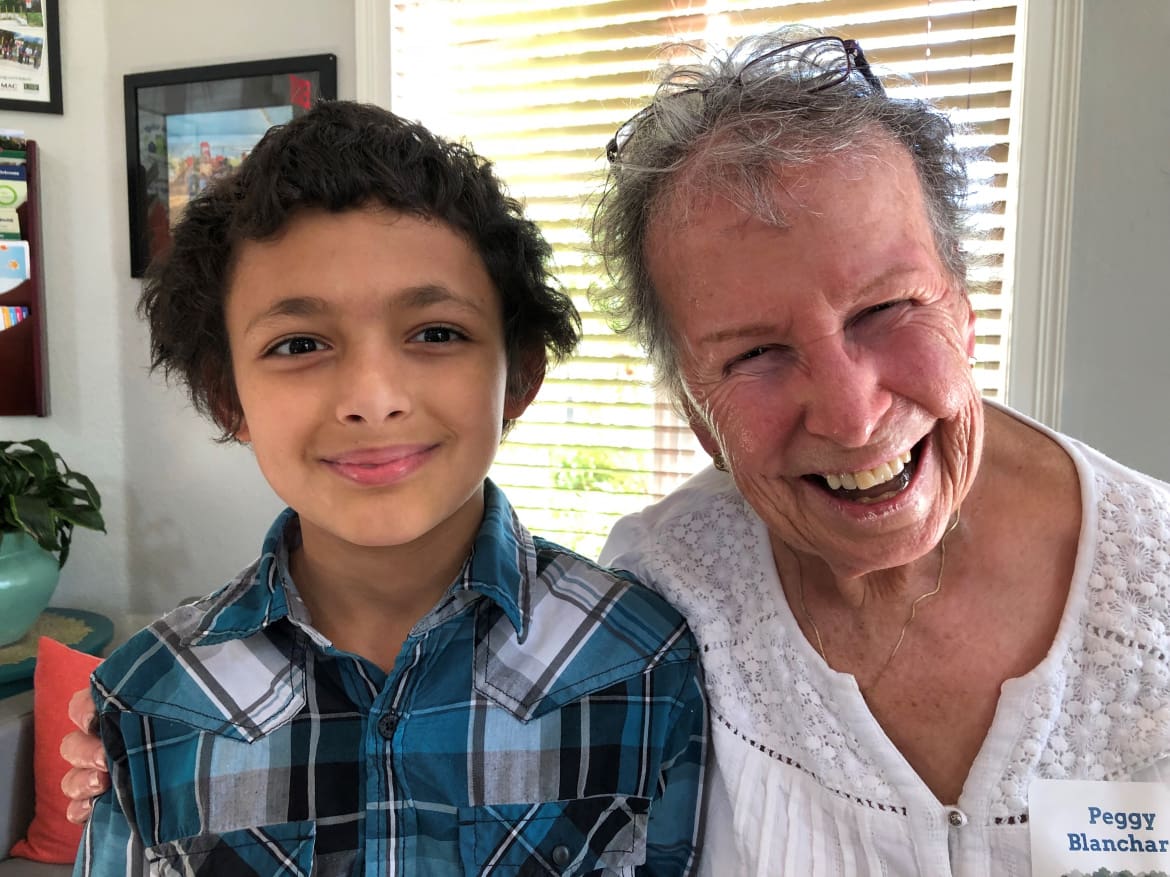 Peggy Blanchard was living in California when she read about New Life Village in AARP Magazine. Her husband recently had died, and she was familiar with the Tampa Bay area. She fell in love with the campus and its mission, and moved in 2½ years ago.
Peggy, 77, routinely visits with neighborhood children, serves as a tutor, and even stayed with six children for a few days when their mother was delivering a baby. "It's about helping kids and people find their own pathway to become bigger than think they can be," she says.
A host of programs and activities help unite residents of all ages. October's calendar, for example, includes trick or treating, bucket drumming, movie night, and a Pumpkin Splash in the community swimming pool, among other events. Yoga, Teen Night, and a prayer group are regular features. The new community garden, splash pad, playground, and athletic facilities are accessible and available for use by all the residents.
The County's Affordable Housing Services department collaborates with New Life Village and subscribes to its philosophy, which is based on an African proverb: "It takes a village to raise a child."