By Terry Galvin
Business Editor
Posted Apr 10, 2017 at 12:01 AM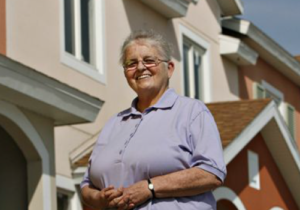 For a community with a mission to help children, it must be difficult to tell who benefits the most from New Life Village.
Just listen to Luanne Panacek, the executive director of the cross-generation community of 31 townhomes west of Brandon.
She had been retired for years and "did a bazillion things to stay busy" and yet realized she was missing something.
"I was miserable. This place saved my life.
"What I needed was to be part of something bigger than myself."
It's a feeling that is important for the community's mission of supporting families that adopt children out of foster care. "Seniors are the foundation of the program, because they are the volunteer base," Panacek said.
New Life Village was opened in 2012 by Sister Claire LeBoeuf, a Catholic nun and member of the Sisters of the Holy Cross who had campaigned for something like it for 50 years. It is an 11.8-acre gated complex of 31 two-story, two- and three-bedroom townhomes. The village has a playground, a pool and a 3,000-square-foot clubhouse including a learning center.
All residents pay reduced rents. In an area where two-bedroom, one-bath apartments can cost $1,200 a month, the village charges $740 a month for its townhomes with two bedrooms and two and a half baths, Panacek said.
Seniors volunteer a certain amount of time a month. They are surrogate grandparents and safe mentors for the children making the sometimes difficult transition from foster care to being adopted or being reunited with birth parents.
"It's not just about people moving in here," Panacek said. "It's about building a community where people can rely on one another and trust one another and aren't reluctant to reach out for help or to help. One of the most moving experiences is seeing people just rally to help."
The village now has 16 senior residents and has openings for seven more because several had reached a point where they couldn't function independently and help the adopting families. Its biggest need, Panacek said, is for capable, able-bodied seniors who can live in townhomes with stairs. She noted that the village needs additional residences to house more fostering families and adoptive parents and children, particularly single-story homes that are better-suited for seniors.
The village is needed in Hillsborough County, which has more children in foster care than any other county in the state, she said.
Resident Toni Robles Rodriguez said it is working. She has lived there for about three years raising her four adopted young children.
"I absolutely love it here because all the children who live here have so much in common," Robles told the Tampa Bay Times. "Plus, this village is so amazing in that everybody comes together in welcoming new people and helping out in any way we can."
LeBoeuf — also the founder of Everyday Blessings in Thonotosassa, a group home for foster sibling groups waiting for safe and permanent homes — has devoted her adult life toward trying to find permanent families for children who have been removed from their biological parents due to neglect, abandonment or abuse. Her mission is to reduce the number of children in foster care and the length of time of time they spend in foster care.
"My goal has been to end having children in foster care for more than a year," LeBoeuf told the Times.
"I'd like to have a multi-function center with movable walls for a gym or exercise room, a kitchen, and where we could have weekend worship services," LeBoeuf said. "I'm just dreaming, but it could be an activity center for residents and non-residents as well."
Other needs include an overhead sun shade for the playground.
The work is sustaining for older people like Sister Aline Antil, 78, another a member of Sisters of the Holy Cross, who retired from 45 years of missionary work in Haiti last year and moved to the village at LeBoeuf's invitation.
In addition to participating in various activities at the village and happily inviting kids in when they knock at her door, she helps tutor children in the after-school program.
"I have a great love for children, and I've found this to be very enriching but very challenging, of course," said Antil, noting that while many children in Haiti come from poor families, none are neglected.
For more information, go to newlifevillage.org.
Information from the Tampa Bay Times was used in this report.