Our Story
Vision 
To dramatically reduce the number of children who have been in foster care for over 1 year.
Mission
New Life Village's (NLV) mission is to reduce the number of children in foster care by encouraging more families to adopt by providing these adoptive families a loving, supportive neighborhood to call home.
Our "Home" is an intergenerational residential community designed for families raising foster and adopted children. NLV residents have either adopted a child from foster care or are in the process of doing so. Several supportive seniors also call NLV home. They serve as surrogate grandparents and volunteers to the children and to the mission. The Village offers a reduced rent incentive to assist these families and seniors. The Village also offers a program to support parents and children.
History
The Village was founded by Sister Claire LeBoeuf, CSC of the Congregation of the Sisters of Holy Cross. Sister Claire has spent her entire adult life advocating for abused and neglected children. Though never in foster care, Sister Claire, after her mother's death when she was 13 years of age, experienced firsthand what it means to be in a family where one simply doesn't belong.  
Our Values
Faith
Appreciation
Kindness
Collaboration
Sharing
Love
Education
Safety
Family
Gratitude
Respect
Boundaries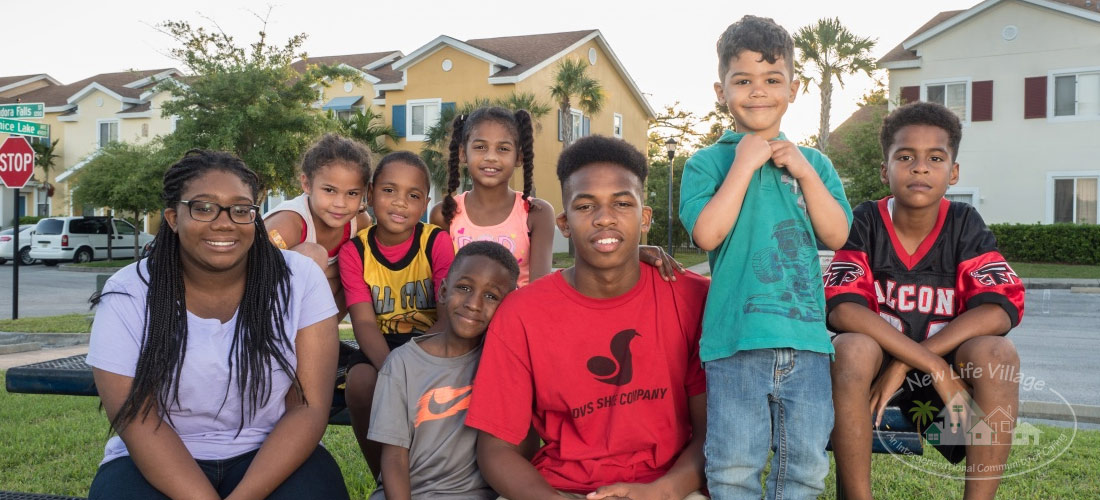 Why Serve Foster Children?
Both nationally and locally, the foster care system is filled with children who need to find a forever home.  These kids have been through more than most of us can imagine and end up in foster care through no fault of their own.   There are a little over 400,000 children in foster care in the United States. Of these children, approximately 2,000 are in out-of-home care right here in our own back yard. It costs taxpayers in Florida about $40,000 a year for every child who does not have a permanent home. Many older children end up living in group homes where they remain until they "age out" of the foster care system. Sadly, they are also at risk of substance abuse, teen pregnancy, homelessness, dropping out of school or losing their own children to foster care.