Email Mariah.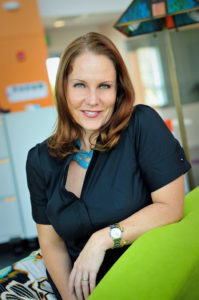 Mariah Hayden, MA, MBA is the Assistant Director of New Life Village. Since 2001, Mariah has worked in the areas of marketing communications project management, community relations, relationship development, branding, training/instruction, diversity programs management, efficiency development, event management and educational programming. Mariah has award-winning achievement in diversity program management and human resources association leadership. She sat on the Executive Board of Directors for the Professionals in Human Resources Association, the California State Council of the Society of Human Resources Management, and the founding Board for the National Association of African Americans in Human Resources, Los Angeles Chapter. Mariah has volunteered for the University of Tampa Alumni Association, the University of Tampa Board of Counselors as well as the Tampa Chapter of the National Association of African Americans in Human Resources.  Mariah received her Bachelors in Communications and minor in Marketing from the University of Tampa. She went on to earn her Masters in Communications from San Diego State University and her MBA at the W.P. Carey School of Business at Arizona State University. Mariah has completed a Certificate of Change Management from the University of Tampa. Mariah is also an adjunct instructor at the University of Tampa and Hillsborough Community College.
Mariah's Recognitions
2013     Civilian of the Quarter, U.S. Air Force, Goodfellow, TX
2007     Professionals in Human Resources, Vice Chair of the Year
2006     SHRM National Pinnacle Award Winner
2003     KPBS Reeves Scholar
2003     National Television Academy, Emmy Scholar
2002     San Diego State University Scholar
2001     National Dean's List Distinction, 2001
2000     Who's Who Among Colleges & Universities
1999     Alpha Chi National Collegiate Honorary Society Awardee
---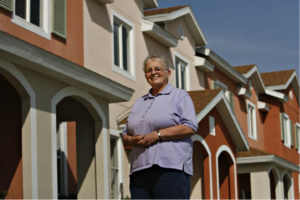 Sister Claire LeBoeuf, MA, CSC or 'Sister Claire' is the Founder of New Life Village. She has been working in the field of Child Abuse and Neglect since December, 1979–almost 35 years. New Life Village, Inc. is the third program that Sister Claire has founded since 1982.  She refers to this as her "swan song."  She also shares that New Life Village most closely represents the full circle of her life.  Sister Claire was born and raised  on a small farm in Hudson, NH, in a safe, stable and, what promised to be, permanent family.  Unfortunately, when she was 13 years of age, her mother (the most significant person in her life) died suddenly.  Her father, thinking that it would be in her best interest, asked Claire's godmother if Claire could live with her family, at least for a while.  A year later, he re-married and Claire went back to live with him and his new wife.  While deeply loved and cared for in her godmother's family, Claire always had a sense that this was not her family and that she did not belong.  After her father's remarriage (and the move to a new house), the home was again certainly not hers and the sense of not belonging was even stronger.  She subsequently entered the Congregation of the Sisters of Holy Cross in 1960–where she has felt a deep sense of belonging for 54 years.
While Sister Claire experienced only four years of "not belonging in a family," it is a desire of hers that NO child live even one day with that feeling. Unfortunately, for children languishing in foster care, that feeling endures day after day after day–especially when frequent moves are experienced.  Even in the best of foster homes, children in temporary custody know that they do not belong.  In a permanent (adoptive) home, the possibility exists that the child will experience a feeling of truly belonging–a feeling he/she might have had at one time in the past or perhaps has never had.
Moving to Tampa from New Hampshire in 1977, Sr. Claire enrolled for training in Transactional Analysis (the I'm OK, You're OK era). Becoming convinced of the importance of early childhood experiences, coupled with the fact that, throughout the 70's, states were developing laws governing child abuse and neglect, Sister Claire arrived at the decision to focus her life's work on abused and neglected children.  This was not a far jump from her work as a school teacher–one who could always pick out the three or four children in her classroom who were hungry, dirty and afraid–at a time when she really didn't know what to do about that, or that anything could be done.
From 1979-1984, Sister Claire worked for the Community Council on Child Abuse and Neglect, first as Parent Educator at the Rainbow Learning Center and then as the Coordinator of Training and Education in the community.  It was as Parent Educator that she recognized that mothers who had lost custody of their children couldn't possibly make the necessary gains by participating in a two-day-a-week program.  She recognized the need for much more intensive training in three areas:  Parenting, Self-Esteem and Education.  From that realization came the founding of New Life Dwelling Place–Sister Claire's first experience as a founder.  At New Life Dwelling Place, mothers and their children (still in state custody) could reside together under one roof–coming to know and bond with one another.  Not only would New Life Dwelling Place give mothers an opportunity to get back on their feet and to learn many new skills, it would facilitate their reunification–or sometimes to face the fact that they simply did not have the desire or the skills to be a good parent for their children.  Meeting with adoptive parents would facilitate the release of these children–knowing that they had made the right decision–without feeling any guilt.  
In 1993, New Life Dwelling Place, Inc. merged with the Child Abuse Council (formerly the Community Council on Child Abuse and Neglect).  That program no longer exists. In 1993, Sister Claire founded and ran Everyday Blessings.  Everyday Blessings had a residential  group care Child Caring component for the care of children languishing in foster care as well as a Child Placing component that trained, licensed, approved and supported foster and adoptive families.  The residential component of Everyday Blessings remains in existence in Thonotosassa, FL.
By 2007, Sister Claire had become very disenchanted with the courts and their inability/unwillingness to make expedient decisions on behalf of children and with the foster care system, a system that is overworked and whose hands are tied by policies that are detrimental to children.  She saw the tremendous need that existed (and still exists) to provide an alternative for children who languish in foster care and who reach an age when they are least likely to be adopted.  Thus, the concept of New Life Village came to be–an intergenerational community modeled after Generations of Hope which Sister Claire visited in the mid 1990's.  Incorporated in 2007, New Life Village stands ready to provide safe, stable and permanent homes within a community of support.  It stands ready to move children out of a state of "not belonging" to a state of "belonging to a loving, caring family of support." Sr. Claire's service and work have been recognized throughout the country.  Numerous articles and television blurbs about Sister Claire, about New Life Dwelling Place, about Everyday Blessings, and now about New Live Village have demonstrated her efforts toward bringing to fruition her life's goal–to focus, in one way or another, on making life better for abused and neglected children. Email Claire. 
Claire's Recognitions
1989      Outstanding Service to Mankind Award, Sertoma
1991      Service Award, Mental Health Associates of Hillsborough County
1995      Women of Distinction Award, Suncoast Girl Scout Council
1997      Lifetime Achievement Award, Notre Dame College, Manchester, NH
2001      Hillsborough County Moral Courage Award
2008      Jefferson Award Nominee
2008      Local Hero Award, Bank of America Foundation
2008      Community Quarterback Award, Tampa Bay Buccaneers
2009      Jefferson Award Nominee
2013      Honorary Doctor of Humane Letters, St. Francis University, Loretto, PA
2015      Inaugural Winner, Luminary Award by the Junior League of Tampa Bay
2016      Tampa Bay Lightning, Community Hero